Dans nos galeries, vous verrez
les vraies copies de chacune des oeuvres originales sélectionnées.
Cliquez sur l'un des portraits pour atteindre la galerie correspondante.


In our galleries, you will see
our genuine copies
of each of the selected originals.
Click on any portrait
to reach the corresponding gallery.
Nous cherchons à identifier les oeuvres originales ci-dessous.
Un grand merci au visiteur qui pourra nous aider.
Visitors' help is kindly solicited in order to identify the original paintings here-below.
Many thanks in advance.
Peinture sur isorel, 44 x 90 cms,
avec incrustations de sable et de petit gravier,
dans le style "action painting / dripping" des années 1960
( cliquer ici pour photos détaillées ).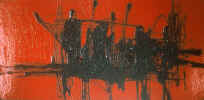 Painting on a 44 x 90 cms hardboard,
in the "action painting / dripping" style that appeared in the 1960's,
with inclusions of sand and small gravel
( click here for detailed photos ).
Peinture sur toile, 73 x 54 cms,
portrait d'un amateur d'orchidées
datant vraisemblablement de la période impressionniste
( cliquer ici pour photo full-screen ).

Oil on canvas , 73 x 54 cms :
the portrait of an orchid lover
supposedly painted during the impressionist period
( click here for full-screen photo ).
Autres sites du Collectif Katroz
www.gustave-caillebotte.fr : tout sur le peintre et sur l'homme
www.katroz.com : oeuvres personnelles
www.digi-katroz.fr : photographies
Nos sites seront vus dans les meilleures conditions
avec le navigateur INTERNET EXPLORER
Other websites by the Katroz Group
www.gustave-caillebotte.fr : all about the painter and the man
www.katroz.com : personal works
www.digi-katroz.fr : photographies
Our websites will be seen under the best conditions
with the INTERNET EXPLORER navigator