Cette copie fait partie de notre donation à la Propriété Caillebotte à Yerres (Essonne), où elle est désormais visible lors d'expositions temporaires.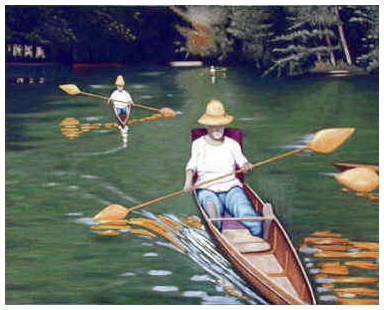 This copy is part of our donation to the Caillebotte Estate in Yerres near Paris, where it can be seen during temporary exhibits.
Comme pour la plupart de ses oeuvres, Caillebotte semble avoir peint celle-ci d'après une photographie prise avec un objectif grand-angulaire, ce qui produit cet effet dramatique de projection dans la scène : le spectateur a l'impression d'être partie prenante à l'action. La rivière Yerres semble beaucoup plus large qu'elle n'est en réalité (pas plus d'une dizaine de mètres) : elle est toujours là, elle n'a guère changé, ce que j'ai pu vérifier à l'automne 2002 - avec un peu d'imagination, on peut même reconnaître les arbres du tableau...
Un soin tout spécial a été pris pendant la reproduction de ce tableau pour rendre l'effet de scintillement de la surface de l'eau ainsi que la richesse des verts, nécessitant de multiples reprises avec le plat de la brosse.
Claude Guillemet